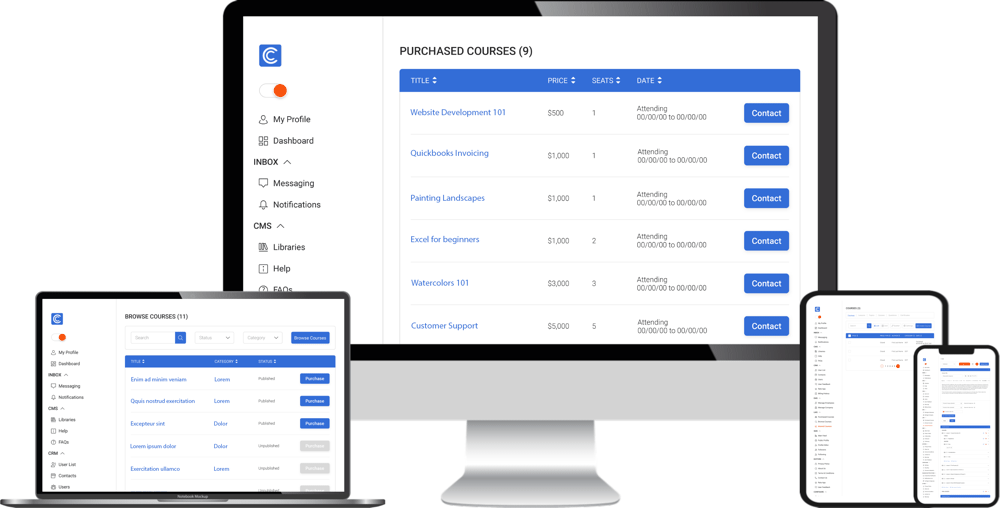 Custom Learning Management System
In need of a custom learning management system. We offer a robust, full-featured learning management system that we can custom brand for companies and individuals.
LMS Cost Overview
We charge a one time licensing fee for the base product which buys you a lifetime royalty free license to a copy of the products source code for use in your project.
Features
The base LMS feature include
Support Rich Text, Documents, Images and Videos
Ability to group assignments into lessons, lessons into courses and courses into course bundles
Ability to monitize content through subscriptions or per item in app purchases
Support for quizzes with quiz builder and auto-grader
Built to be deployed on cloud systems including AWS and Azure
Cross platform friendly designs
Built in support for business accounts to manage LMS content for employees
Built in support for parent/teacher accounts where they can manage their child/students LMS content
Responsive Web App that includes web admin and end user apps
Need Customizations?
The base LMS is created to be extended. You can hire us to add in those custom features your project might require. Or since you are purchasing a license to the source code your in house developers can customize the product for you.
Starter App Include
The LMS is built on top of our Starter App Product. So all Starter App modules are available for you to include in your project at no additional cost. The Starter App is modular so you only include those features relevant to your project. Those features include:
User Messaging
Notifications
Help & FAQ
Branding Admin
Content Management System
Customer Relation System
Contact Us, Send Feedback, Rating System, About Us
Privacy Policy, Terms and Conditions and Editors to edit content
Page Builder for your public facing website with support for dynamic marketing/funnel pages
Blog